When to Seek the Advice of a Family Lawyer
Multi-faceted and more than just the dissolution of marriage, divorce is generally the most complicated legal area in family law. Child custody, visitation, child support, alimony (or spousal support), and property division are just a few of the other family law categories covered in the course of the divorce process. Family law also addresses adoption, paternity, legal aspects of marriage, pre-marital and post-marital agreements (also called marital agreements), along with many other concerns. Based on the family law issue you are addressing, you need to know when to seek the advice of a family lawyer, obtain limited representation or retain an attorney to represent you.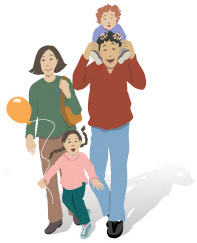 Legal Help for Divorce
You should obtain a divorce lawyer if:
Your spouse has a lawyer.
Intense conflict prevents you and your spouse from communicating or resolving issues.
Emotional stress prevents you from thinking clearly or making decisions.
You have substantial assets.
There is domestic violence or your spouse is involved in substance abuse.
The extent of legal help needed for divorce depends on the intensity of disputes and the degree of complexity involved. Child custody, child support, spousal support and property division are often heavily disputed and thorny issues.
Simple divorce

Even with the simplest of divorces where both spouses agree on all concerns, the marriage is short-term, no substantial assets exist and no children are involved, it is wise to at least hire a lawyer to review documentation for legal soundness. Sometimes there is an aspect of the divorce the couple is either not aware of or that has been overlooked, which could later result in legal ramifications. You can also hire the lawyer to file all necessary paperwork with the court on your behalf.

Complex divorce, but spouses agree on issues

A long-term marriage characterized by substantial assets that are mutually owned, adds complexity to the divorce process. Transferring property, handling retirement accounts, determining parenting plans and child support along with other divorce issues that require legal know-how are best left to a lawyer. A lawyer can ensure that the proposed divorce decree is properly drafted and that you are well informed of your rights.

Instead of retaining an attorney to take control of your case, if the lawyer will agree to limited representation for services rendered, you can ensure your interests are protected and that all-important issues have been addressed. Limited representation will provide the legal guidance you need with less expense than retaining a lawyer to manage the whole divorce, which requires an up front deposit. Many attorneys also have access to tax consultants and financial planners who can offer their services on a modified basis to minimize taxation and save family resources.

Complex Divorce, minimal disputes

An attorney who is also qualified to act as an impartial mediator can assist couples to arrive at a settlement regarding issues that are in dispute, as well as address and review agreements reached for intricate issues involving child support, alimony, parenting plans and property division. Legal documents will then be drafted, completed, signed and submitted to the court for final judgment. Typically, mediation is approximately one-third the cost of collaborative divorce, one-fourth the cost of negotiated settlements and one-tenth the cost of full-scale litigation.

Complex divorce, considerable dispute, but parties don't want a battle in court

When you need a lawyer to advocate your interests, but want to resolve your disputes and strive for settlement, collaborative law may best suit your needs. Once the collaborative sessions begin, attorneys are legally prohibited to represent their client in divorce court. In a cooperative atmosphere, the welfare of the whole family is considered; professionals are brought in as needed (financial consultants, marital counselors, etc.) to help the couple resolve their disputed issues.

Intense conflict, no agreement or communication possible, domestic violence or drug/alcohol abuse

You will definitely need a lawyer when communication and willingness to communicate has shut down. In such situations, courtroom litigation will be used to resolve divorce. Domestic violence or a spouse's involvement with substance abuse also presents significant barriers to settlement outside of court. In family law, a seasoned trial lawyer with good people skills, who is also skilled in mediation, collaborative law, and negotiated settlements is ideal for this type of divorce situation because adversarial lawyers all too often fuel existing conflicts and worsen the prospects of a favorable trial outcome. Unlike other legal areas where parties may never deal with each other again, in family law, especially when children are involved, ongoing contact and cooperation is necessary after the legal action has been finalized

.
Adoption, Pre-marital Agreements, Paternity and Other Family Law Issues
When an adoption is contested, based on legal grounds that laws or guidelines were violated, the instability created for the adoptive parents and adopted child can be devastating. The same holds true for pre-marital agreements that are found to be invalid later when conflicts arise. Technicalities of paternity determination that did not follow the letter of the law can overturn inheritances, custody and a host of other paternity related issues.
For the sake of protecting your own legal rights in any family law matter, it is wise to seek legal advice, if only to make sure the legal documentation is sound and would hold up under judicial scrutiny.