About
Splitsville?
Yes, I founded SplitsvilleTexas. My name is Patrick Wright, and I have practiced family law for 14 years in Texas. I have built my own firm from the ground up. I have received certification in family law from the Texas Board of Legal Specialization. I am a trained mediator and collaborative lawyer and have fulfilled the necessary requirements to receive court appointments as an ad litem and on Child Protective Services matters. I have been listed in Texas Super Lawyers, a designation received by fewer than 5 percent of Texas lawyers. I have even appealed a family law case to the U.S. Supreme Court.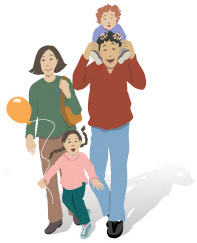 So, you might be wondering why I wrote this site. I fight daily in Texas courts on all kinds of family law matters. I receive calls and e-mails daily from people struggling with family issues. I searched online for a Texas social networking site for people with family law questions and concerns. I found sites from out-of-state lawyers and sites created by non-lawyers with general information, but nothing was good enough!
MY HOPE
It is my hope that this site will evolve into a network of people facing similar family law and life issues. This site will serve as a starting point for general information about family law in Texas. This site is not meant to be a substitute for an experienced family lawyer. You should not rely on this site as legal advice. Use this site to get started on your journey to educate yourself on the process and as a resource whenever you experience family law issues. The forum is meant as a way for you to communicate with people just like yourself who have faced the same issues as you. A community will be created about which people can chat, read, write and hear family law topics. This is the beginning of an experience we hope to create with video, audio and text, with content added frequently.
OUR PARTNER
SplitsvilleTexas is made possible by the sponsorship of the family law section of The Wright Firm L.L.P. The firm's attorneys are located in Dallas and Denton counties. They can meet with clients in Fort Worth, Frisco, Plano and Rockwall by appointment. They handle family law cases throughout Texas. The firm has a reputation of aggressive representation of individuals in family law matters.
Thank you for taking the time to read this far. I hope you enjoy the site. I would love to hear your suggestions on this site. Just remember that one of the best things about this site is that it is free.
Creator: Patrick A. Wright
This site is owned by Wright Interactive Media Inc.
E-mail